Updated: 07-2022
Lexa Dating Netherlands (Europe) Guide
How To Sign Up Free To The No.1 Dating Site in The Netherlands
Chat With Men and Women From The Netherlands Today!
In this article you will find everything you need how to sign up and find men and women from The Netherlands on Lexa, the leading Dutch Datingsite.
Lexa Review: Why Choose Lexa Dating?

Lexa is a leading dating site for the Netherlands market that targets a wide international audience.
If you want to meet Dutch men and women online in The Netherlands, such as in the major cities Amsterdam, Rotterdam, The Hague, Eindhoven, Utrecht and the rest of The Netherlands, then you are in the right place.
On Lexa you will find thousands of Dutch singles who are looking for a serious relationship.
Why should you choose Lexa?
Chat directly via the website
Always online members present
Site and mobile app very user-friendly
---
About The Netherlands
The Netherlands (aka Holland) is a small country in Western Europe, but rich with history and a wealthy economy.
Men and women in The Netherlands are internationally minded, speak English and would love to meet foreigners!
---
How To Sign Up and Chat To Men and Women In The Netherlands Looking For a Relationship using Lexa  Dating App
Here's a step by step guide how to start meeting people from The Netherlands online today using the Lexa Dating site:
Although people from The Netherlands usually speak English well, the Lexa Dating Site is in the Dutch language.
But this is no problem!
You can easily get around this using Google Translate as follows:
Use Lexa Dating in Your Language For Desktop PC and Laptop users
Step 1:  Install Free Google Translate and Register for Lexa
Add Free Google Translate to Chrome Browser
Use the free Google Translate Chrome Extension to translate the Lexa site to English (or any language of your choice) automatically.
Get the free Google Translate Chrome Extension here >
---
Step 2: Go to the Lexa Dating Site and use the Translate Extension to translate the site in your language
Go to Lexa >
After you have installed the translate extension, click on the little blue Google Translate icon at the top right of your browser.
If you can't find it, click on the little "puzzle" icon to pin it to your favourite extension list.
Now click on the translate icon and click on translate this page
Click on the language of your choice to translate the website into the language of your choice!
---
Step 3: Follow the steps and sign up
Lexa will ask you a few questions. Just follow the steps and you will signed up and ready to chat!
---
For Mobile Users
In this case use the Translate feature in Chrome for Mobile as shown below:
Step 1: Install Free Google Chrome browser on your phone
If you already have Chrome browser on your mobile phone, you may skip this step.
If you can't find the translate feature, then be sure to update the app.
Android: Get the Chrome Browser in the Play Store here >
Apple iPhone: Get the Chrome Browser in the Play Store here >
Step 2: Go to the Lexa Dating site
Step 3: Translate the site into your language
tap on the 3 dots in the top right corner to open the menu
then tap on translate
then tap on the 3 dots below right
then tap on more languages
then choose your language, English or other language
now follow the steps to register, same as in the Desktop/PC version.
---
Optional: Communicate in your language
If you don't speak English well, you can translate the chat to any language of your choice with the free Google Translate App.
Android: Get the free Google Translate App here in the play store >
Apple iPhone: Get the free Google Translate App here in the app store >
---
You are now ready to meet men and women from The Netherlands 🙂
Be sure to read this whole article, it will explain the site in more detail.
How To Use Lexa
Here I will explain your benefits & features of using Lexa.

For many dating sites, you can actually do more with a paid membership.
Nevertheless, Lexa already offers a lot of user options if you create a free account.
With a free account you have access to the following features:
View selected matches on the homepage
View 100 partner proposals every day with the shuffle option
See which members are currently online
Searching for new singles yourself
Change your profile at any time
Change your settings at any time
Restricted sending and receiving messages
Restricted Viewing Profiles
Shuffle option
A nice extra on the dating site is the shuffle option. If you click on the shuffle option, a profile will be displayed with a photo and some basic information such as age and place of residence. Are you curious and do you like them? Then click on the check mark. If he or she does not quite fit in the right picture, click on the cross. If you both clicked the check mark, then you have a match! You can now message your match.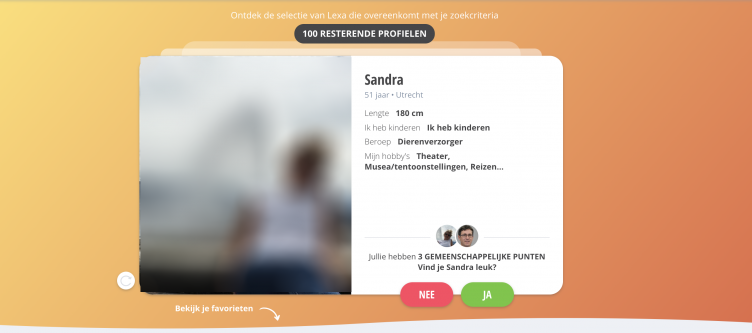 Search function
Lexa has a pretty extensive search function. Of course you can filter profiles by age and distance, but there are even more options. Do you only want to see profiles of members who are at least 1.80 meters tall or who are anti-smoking? No problem, you can actually fill in anything with this extensive search engine. If you want to get in touch with active users, you can also filter by 'last online' or by registration date. This way you can search for your new flame very precisely and specifically.
Lexamore
Want to get to know matches even better based on your personality and interests?
Then the Lexamore option is for you. Complete the test and you will receive a personality report.
The test asks even more about yourself and what your ideal partner looks like. For example, do you like the type of businessman or adventurer and does he have to back down or be indulgent? Based on this test, Lexa can choose even better and more personal matches for you.
Always online
All Lexa functions are also easy to operate and perform via telephone, tablet and smartwatch. This way you are always online and you can meet new singles at any time. The Lexa app can be downloaded for free for iOS, Android and Windows Phone and ensures even higher user-friendliness.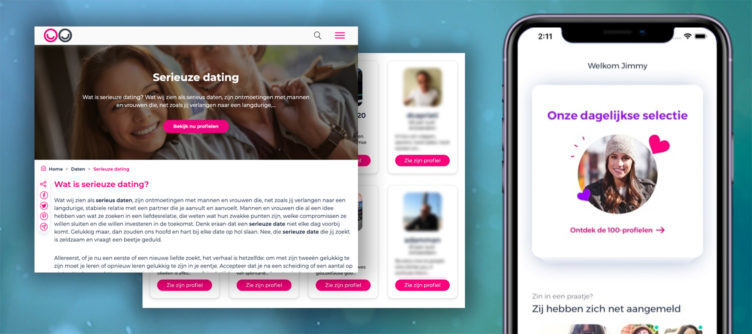 Incognito feature
Lexa has recently added a feature that allows you to remain anonymous on the site.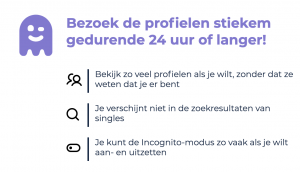 ---
Lexa Dating site sign up process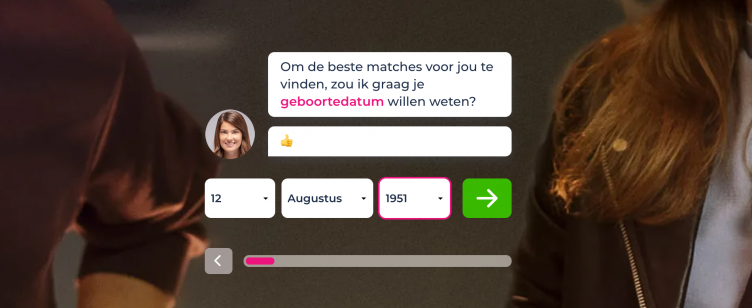 When visiting the website, you will soon be welcomed by chatbot Anna.
If you are not sure where to start, Anna will help you on your way step by step. Unfortunately, she cannot have nice conversations with you, but you can use the dating site for that.
If you don't like the chatbot, you can of course also register in the traditional way. Fortunately, registering with Lexa is not a hassle and takes little time. After 10 minutes you have already created a good basic profile and you can get started.
When you register, Lexa first asks for some general information, such as your education level, your relationship status and your origin.
The dating site also wants to know about your appearance, such as your height and your hair color. Then you can answer the same questions about your ideal partner.
Love your imperfections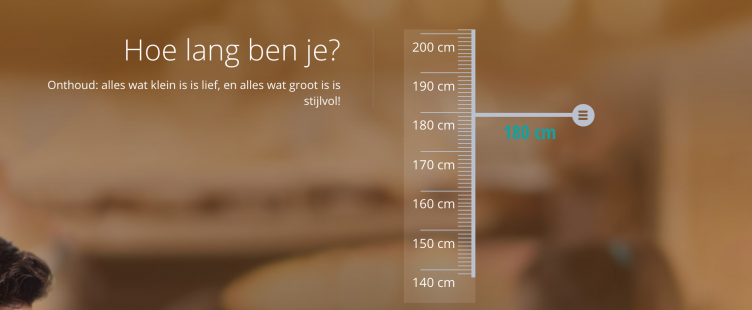 Lexa's slogan is 'Love your imperfections' for a reason.
Do not put these imperfections in a corner, but above all stand out. Maybe you match because you are both big eaters or you can quickly cross a match because you are not looking for an indecisive person.
Actually, it is ideal to know not only what someone's nice sides are, but also what someone's negatives are. Just handy before going on that first date and maybe a fun icebreaker to start over.
After these questions, it's time to indicate what your hobbies are, what music and movies you like, and what sports you practice. There is a whole list of options that you can tick. A downside is that you cannot add options yourself, but can only choose from this list.
Your profile is now almost ready. Only upload your profile picture and give a short description for your profile.
Here you can describe yourself or indicate who you are looking for. If you can't quite figure it out, Lexa gives some examples for inspiration. Done; you can really get started now!

---
Target audience of Lexa
Lexa does not focus on a specific target group, but is there for every type of bachelor. Thousands of new singles sign up every day. Whether you are looking for a date, a lasting relationship or looking for a nice click; you will find it all on this dating site.
The dating site mainly wants to profile itself as a large dating site for everyone. Every type of single with every age can go there. Even though the offer may be more diverse and larger than on other dating sites, you can still effectively find a new match at Lexa in every region in the Netherlands.
---
Site Security and Privacy
Safe dating is an important topic, they believe at Lexa. All profiles are manually checked for reliability by a special team. This team is busy every day checking photos, profiles and texts. If you have doubts about a profile or if you receive inappropriate messages, for example, you can report this. Lexa's team looks for fraud and takes action if necessary.
SSL Certificate and HTTPS connection
If you use Lexa, your connection is encrypted using an SSL Certificate. This ensures that you have a secure connection to the dating site and that your data cannot be intercepted by a third party.
Safe Dating Tips
Lexa indicates that it is also important as a member to know how to date safely (online). Various tips can be found on the website. For example, you should not just send personal data, they will tell you how to recognize a fake profile and you can read about how to meet someone safely for the first time.
Quality Mark Safe Dating for Lexa
Lexa is allowed to wear the Safe Dating Quality Mark. This means that the dating site meets strict requirements in terms of transparency, security and customer service. This way you as a user know for sure that your personal data is in safe hands. In addition, you are assured that you communicate via a secure connection and you know that, for example, there is open communication about subscription prices.

Lexa has the Thuiswinkel guarantee
What is also good to know is that Lexa is affiliated with the Thuiswinkel Waarborg. Webshops that comply with this quality mark have been tested for regulations, safety and financial stability. So you know for sure that at Lexa you are dealing with a reliable webshop and that you can make your purchases in a safe environment.
---
Brand Popularity of Lexa Dating in the Netherlands
Lexa has been working for years as one of the largest dating sites. The site is not only known in the Netherlands, but all over the world where the website is mainly known under the name Meetic or Match.com. The great name recognition is mainly due to the advertising of the dating site. television spots, radio advertisements and billboards; Lexa is represented everywhere.
With over 13 years of experience and as the market leader in internet dating, thousands of new singles find their way to this dating site every day. Lexa is the most visited dating site and the number of users is growing every week.
Lexa also organizes events and drinks to get to know each other outside the site. Every month there are hundreds of events spread all over Europe. This ranges from workshops to drinks and from dinners in restaurants to wine tastings. Lexa guarantees a good quality of the activities by only inviting members who match in terms of place of residence, gender and age.
---
Contact Lexa customer service
If you create a profile on Lexa, the Customer Care Team is always there for you. If you have not been able to find the necessary information on the website, you can contact us here for all your questions. If you have a complaint or want to make a suggestion, you can also contact us online. The team aims to respond within 48 hours.
Address data
Lexa.nl / Meetic Netherlands B.V.
Postbus 10813
1001 EV Amsterdam
Nederland
KVK: 58845895
Telephone number: 020-5203880 (limited availability on Tuesdays and Thursdays from 10 a.m. to 12 p.m.)
E-mail: customercare@contact.lexa.nl
---
Lexa Dating App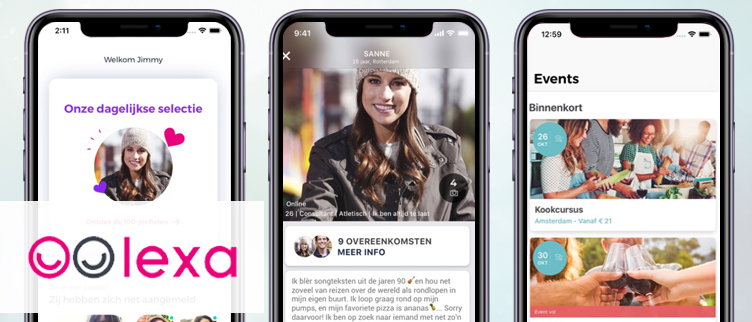 The user-friendly Lexa ensures that you can also take the functionality of the website with you. This way you can view your matches or reply to messages at any time of the day.
---
Lexa Cost of Membership
If you like the dating site or if you want to get in touch with matches, you can take out a paid membership. With a membership you can use many additional functions. You can read and send messages, see who is interested in you, you will not be bothered by advertising, you can view unlimited profiles and you can search extensively.
The cheapest membership option costs 9.99 per month and is valid for 6 months. In addition, there is a 1-month and 3-month membership. You can take out a membership via iDeal, Paypal and Credit card.
Do you not want a membership right away, but do you want to get more out of the dating site? Then you can opt for nice extras, such as the incognito mode and a boost package. Incognito mode allows you to view profiles without anyone seeing it. With a boost you ensure that your profile is shown earlier in the search results. This way you have an even greater chance of profile visits and your profile will be shown at 'popular singles'.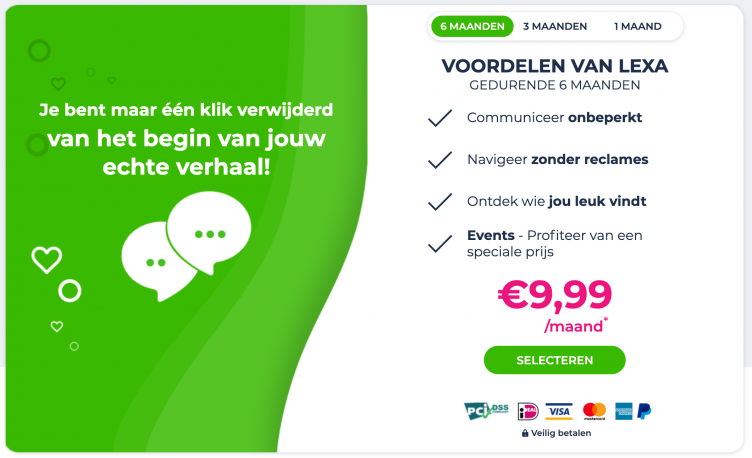 ---
Unsubscribe from Lexa
If you want to cancel your membership, you must stop the direct debit. Go to 'my settings and membership' on your account. You can cancel your membership up to 48 hours before the expiry date. Do you want to delete your profile? Then you will find a link at the bottom of the same page to permanently delete your profile. All information about your profile, contacts and photos can no longer be found.
---
Lexa Dating Pros & Cons
Pros:
Chat directly via the website
Always online members present
Site and mobile app very user-friendly
Cons:
Takes a while before you know where to find all the features
Go to Lexa >
Frequently Asked Questions (FAQ) About Lexa Dating The Netherlands
What is the Lexa Badge and when do you earn it?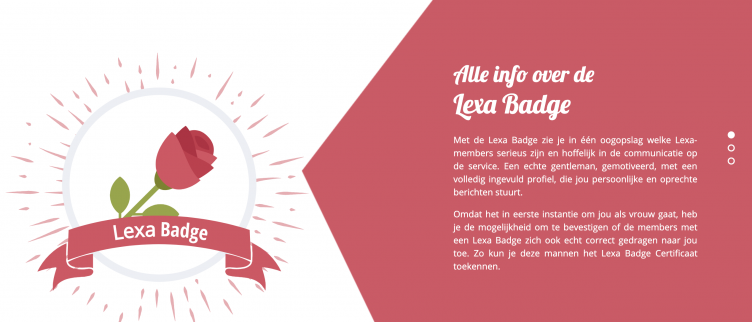 In addition, there is also something like the Lexa Badge Certificate. When enough women have given the man in question a positive assessment, this certificate becomes an extra positive sign for their profile. In this article you can read more about the Lexa Badge and the associated certificate.
We also show how you can earn it yourself as a man and why it is good to be very actively involved in it.
Why was the Lexa Badge introduced?
Lexa introduced the badge a few years ago because many female members reported meeting a lot of men who weren't seriously dating.
These men, for example, were already in a relationship, only sent short and meaningless responses or suddenly stopped communicating while dating (so-called 'ghosting').
This caused more and more frustration among the female members, who wanted a way to quickly see which men were serious.
To accommodate the women, the Lexa Badge was introduced, followed a short time later by the Lexa Badge Certificate.
Men who manage to get hold of these two icons on their profile can usually count on more attention from women on Lexa.
If you as a man are serious about dating, it is therefore smart to try to obtain both the badge and the certificate as soon as possible. Then you can hope for more valuable reactions and therefore also a nice date.
It's also to prevent scammers and fake men.
---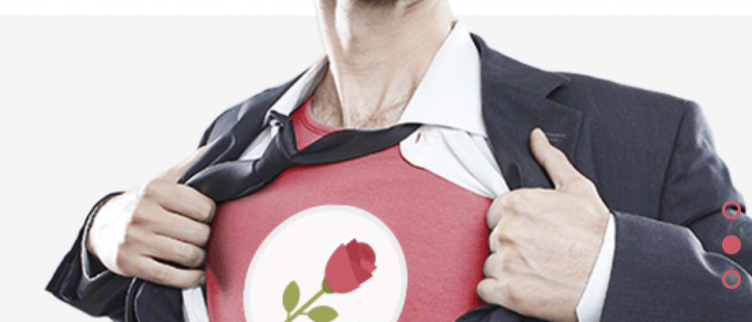 How can a man earn the Lexa Badge?
The Lexa Badge is awarded to men who show they are willing to put in the effort for dating. Four very concrete requirements have been drawn up for this that you can easily meet as a man, namely:
Make sure your profile is filled for at least 70%. This means, for example, that you enter search criteria and write a nice profile text. You can tell by the progress indicator when you have reached 70%.
Your profile picture has been approved by the Lexa editors. That means, for example, that it is a photo that you are good to judge by other members, on which no other people are in it and on which you do not appear in a vulgar way.
In addition, you must have viewed all Lexa Tutorials. These are videos with information about how dating via Lexa works and what is expected of you as a member.
Finally, you must sign the Lexa Badge charter. By doing so, you promise to treat other members with respect.
If you have met these requirements, you will automatically receive the Lexa Badge with your profile so that women can see that they are dealing with a serious man. This also gives you a chance to win the Lexa Badge Certificate, with which women you have been in contact with can give you an extra boost.
---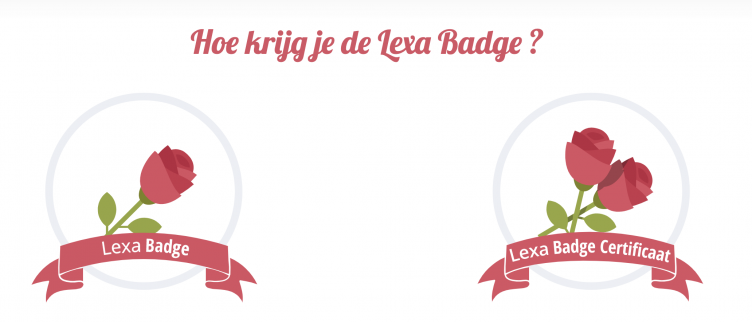 What is the Lexa Badge Certificate and can you earn it yourself?
The Lexa Badge Certificate is a way for women to show other members that you are indeed a good man. When they have had a pleasant contact with you, they can check this on your profile. If enough women you've chatted with do so, the Lexa Badge Certificate will be awarded to you.
Of course, this is even better advertisement for you, because other women can see even more clearly that you are a serious man who will treat them in a fun and respectful way. You can then count on a response on your profile or a nice message faster.
Earning the certificate yourself is a bit more difficult because there are not very concrete requirements. The most important thing is to make sure you behave properly while dating. As long as you approach women sincerely and personally and also adhere to the Lexa charter, you naturally increase the chance of positive reviews the best.
Please note: if you have not been actively dating for a while (a month) and therefore have not received any positive reactions, you can lose the Lexa Badge Certificate again.
Go to Lexa >
What is a Lexa Drink Meeting? (Borrel)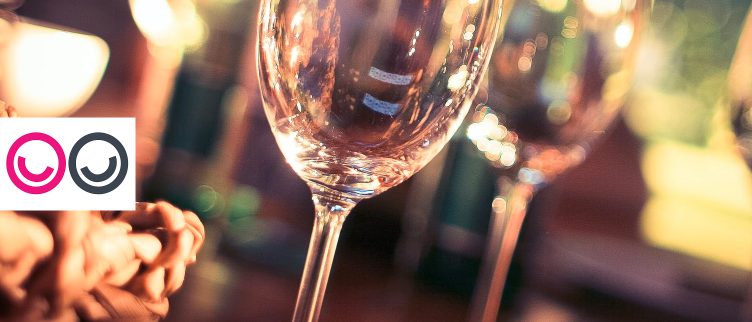 ---
Every month a drink in a different place
The big advantage of the Lexa drinks is that they are organized a number of times every month, in different places in the Netherlands. So there is always one near you. That way you meet other singles who also live in your area. But of course you can also choose to attend a drink in another city, if distance doesn't matter to you for a new relationship.
---
The time to meet face to face
Lexa drinks take place in a relaxed and cozy atmosphere. No speed dating or other forced introductions, but an informal drink in a nice cafe. You can also bring up to three friends if you like. So it feels like having a drink with friends, but knowing that everyone in the cafe is single and looking. Perfect!
Don't forget to meet new people, after all, that's the reason you're at the drink. It is possible that that one nice man or woman suddenly stands in front of you whose profile you have already seen many times. Then go up to them and start a conversation. Of course it is also possible that you have already chatted with your match a number of times, but will meet the person in question for the first time at a drink. Super exciting, but a good time to have a first meeting.
---
Tension before the first meeting
When you first meet, the most important thing is to be yourself. You are looking for a good match, and that is only possible if you do not pretend to be anything other than you are. It is also important to start a conversation and keep it going. You leave a good impression when you are actually interested in the person opposite you.
Is dating site Lexa free?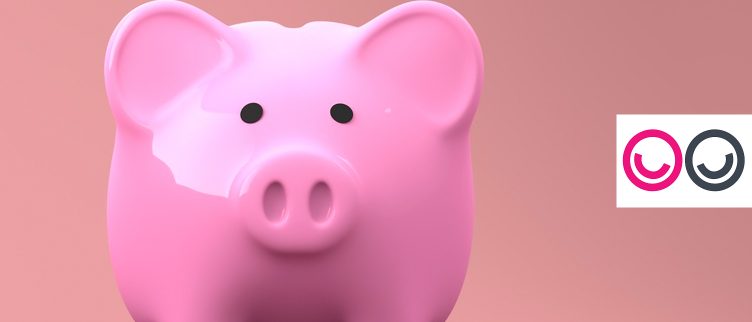 However, the question many people have is whether you should pay for Lexa. While not all features are free on this dating site, a free trial account allows you to try out the basic features of the dating site.
---
Free account on Lexa.nl
A free account on Lexa is intended to give you a good idea of ​​the dating site. This way you can easily discover whether Lexa is a good fit for you and whether you like the website without paying. Although you can do a little more with a Full Membership, you can use the functions below with a free account:
View and analyze your matches
View partner proposals with the Lexa Shuffle
View online list (see who is online)
Post advanced search
Optimize, change and view your profile
Receive unlimited messages
Restricted messaging
Limited viewing of other profiles
Using Lexamore to optimize your profile
---
Free account or pay?
Although you can already see quite a bit of this dating site with a free account, we recommend that you purchase a premium membership if you are serious in your search for love. This allows you to make unlimited use of the dating site and use all its features. This increases your chances of actually finding a relationship through Lexa.
Tip:
Register for free and wait. You will receive several offers and discounts in the coming weeks/months in your email from Lexa.
How To Cancel Lexa;

how do you unsubscribe?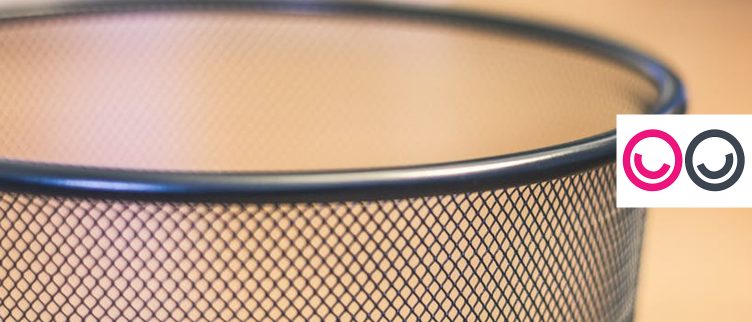 Fortunately, canceling at Lexa is not very complicated. In the article below you can read how you can unsubscribe. When you use Lexa, you have the option to unsubscribe or cancel your subscription at any time. Make sure you unsubscribe before your subscription expires so that your subscription is not tacitly renewed.
---
Cancellation via the Lexa website
You can choose to unsubscribe via the Lexa website. Below you will find an extensive step-by-step plan that explains exactly how you can terminate your account.
Step 1:
Log in to Lexa.nl via the homepage. Log in using the standard login procedure so that you are logged in to your account.
Step 2: 
Once you are logged in, you need to navigate to your profile manager. You can find this by navigating over your own name and photo at the top right. A small menu will then expand, where you click on "My institution & Membership".
Step 3:
Scroll all the way to the bottom. At the bottom (albeit a bit hidden) is a small sentence with a link: 'To suspend or delete your profile, click here.'
Step 4:
Once you have clicked on the link in the sentence, you will be given the option to 'Suspend' your account. This way your data will be saved and you can always log in again so that you get your matches and all your data back. In that case you will no longer be visible on the dating site. By pressing the 'Suspend My Profile' button your account will be suspended.

You can also choose to permanently delete your account. To do this, follow the step-by-step plan below.
Step 5: 
On the 'Suspend profile' page, you don't choose to suspend your account, but you scroll down a bit. There you will see the sentence 'Click here to permanently delete your profile from the website. Please note that deleted profiles cannot be recovered.' stand. Click on the link.
Step 6:
In this step you can delete your profile from the website permanently. This completes your deregistration. Enter your login details and press 'Save'.
Note: This removes all your data from Lexa. After this you will no longer have access to your account, messages, matches or other functions on the website.

You have been deregistered from Lexa and your cancellation has now been processed.
Lexa Cost of Membership: How much does a Lexa subscription cost?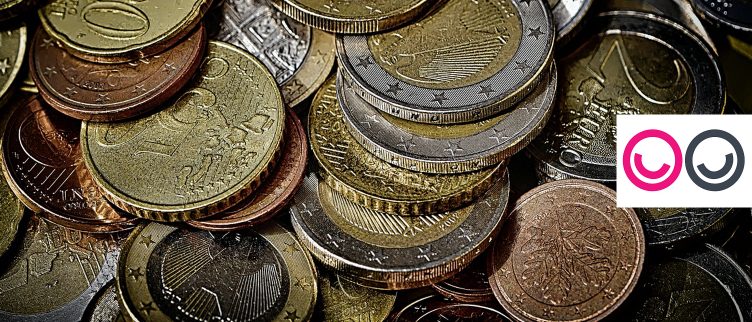 If you are considering purchasing a subscription for Full Membership at Lexa , it is important that you know what choices you have and how much this will cost.
In this article we try to give you advice about the different memberships and the costs involved.
---
Try Lexa completely free
At Lexa you can initially register completely free of charge to take a look around and taste the atmosphere of the website. After you have signed up, you are very limited in your functionalities. You can, however, perform searches and view profiles of other users. If you want to make full use of the website, you will soon be encouraged to take out a Full Membership. Subscriptions with Lexa are cheaper if you take out for a longer period.
Full Membership 1 month: €24.99
Price per month: € 24.99

Full Membership 3 months:  €50.97
Price per month  €16.99

Full Membership 6 months (best deal): € 59.94
Price per month:  €9.99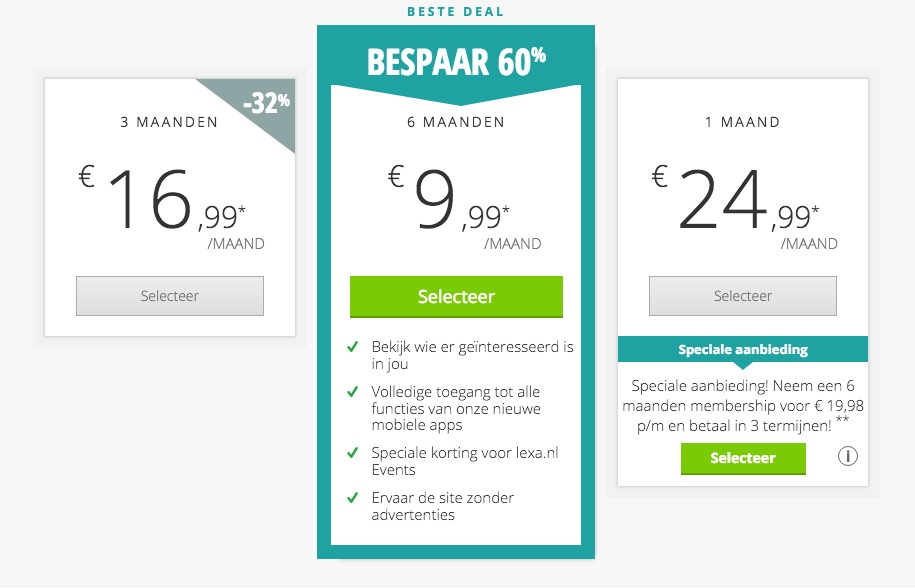 Features of a Full Membership:
Send messages and chat live
Manage and add flirts and favorites
Using the shuffle mode
Automatic matches
100% verified profiles
Using the site and app on desktop, tablet and mobile
Special discounts on Lexa Events
No ads on the website
---
Payment methods at Lexa
You can use iDeal, credit card (VISA, Mastercard, American Express or Diners) or Paypal to take out a subscription.

---
Renewing your subscription
By taking out, you agree to Lexa's terms and conditions, whereby your subscription is automatically renewed each month. With this Lexa guarantees that you will not just lose your contacts and messages when your membership expires. However, once you have created an account, you can disable this feature immediately.
---
Buy boosts
In addition to the normal subscriptions, you also have bonus features. For example, you can purchase a booster to get more attention in the search results. This way you have a better chance of matches.